Susan Weinschenk has a Ph.D. in Psychology, and is the Chief Behavioral Scientist and CEO at The Team W, Inc, as well as an Adjunct Professor at the University of Wisconsin.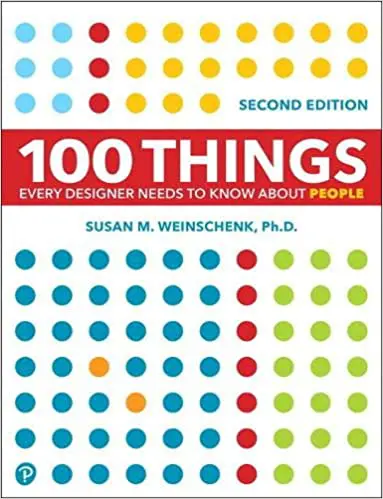 We design to elicit responses from people. We want them to buy something, read more, or take action of some kind. Designing without understanding what makes people act the way they do is like exploring a new city without a map: results will be haphazard, confusing, and inefficient.
This book combines real science and research with practical examples to deliver a guide every designer needs. With it you'll be able to design more intuitive and engaging work for print, websites, applications, and products that matches the way people think, work, and play.
Learn to increase the effectiveness, conversion rates, and usability of your own design projects by finding the answers to questions such as:
What grabs and holds attention on a page or screen?
What makes memories stick?
What is more important, peripheral or central vision?
How can you predict the types of errors that people will make?
What is the limit to someone's social circle?
How do you motivate people to continue on to (the next step?
What line length for text is best?
Are some fonts better than others?
100+100 nguyên tắc tâm lý học mà tất cả các designer nói chung đều nên biết qua để thiết kế tốt hơn.
Đây có thể xem như sách gối đầu về tâm lý học cho designer.